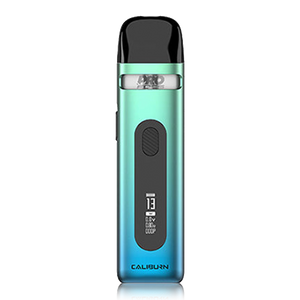 The Uwell Caliburn X pod kit is powered by a 850mAh built-in battery so you can vape for longer in between charges. Each kit includes a Caliburn X refillable pod featuring a pre-installed mesh coil and a spare for better flavour.

The Caliburn X features a single button, which is used to switch on the device by clicking it five times within two seconds. This eliminates the need to navigate complicated menus. Thanks to inhale activation, getting started is as simple as puffing on the mouthpiece. If you prefer more control over your vape, you can also use the button to take a draw. This kit uses a fixed wattage to deliver consistent flavour and vapour production from first to last puff. A small display screen is located on the front of the device to indicate relevant information such as wattage and battery life.

The pod features a top-filling design to cut down on mess, meaning you don't even have to remove it from your device to top it up with your e-liquid of choice. There is a 0.8 Ohm coil inserted into this pod – so you can start vaping straight away – as well as a spare 1.2 Ohm option.

Key features of the Caliburn X pod kit:
860mAh battery for longer vaping time
Uses refillable caliburn X pods
Inhale activated
Small screen to show battery life and wattage