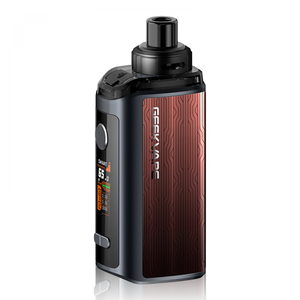 GeekVape's Obelisk 65 FC Pod Mod Kit is no ordinary pod system. The Obelisk 65 looks like a hybrid between a box mod system and pod mod system at first glance, having a larger construction build while remaining conveniently slim, pocket-friendly, and lightweight for vapers who like to travel easily with their hardware.
A comprehensive display screen is a nice touch, offering easy access to numerous features along with vaping stats to always stay on top of those sessions and of course, battery life. Two adjacent navigation buttons enhance the ease of use, with a firing button located at the top.
The integrated 2200mAh battery does most of the heavy lifting, offering profound levels of power that translate to less time spent recharging, and more output capabilities for those who prefer lots of vapor with each pull. Boasting an AS Chipset that's built into the device enables loads of features so that each vaper can personalize their experience as precisely as they wish. The device can be used at 5 to 65 watts, and includes a temperature control mode, smart mode and bypass mode.
This device is charged through a type-C charging port using the included charging cable, which is capable of charging at a super-fast speed so that you won't have to sit around waiting to resume vaping.