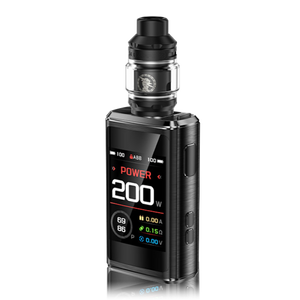 The Geekvape Z200 Kit is a high-performance device with a sleek and modern design. Measuring 51.5mm x 30mm x 141.3mm and weighing just 221.3g.
Featuring a large 2.4-inch full screen display, the Z200 Kit offers an immersive and intuitive vaping experience. Powered by the advanced As-chip 3.0, it delivers a stable output of up to 200w, making it ideal for cloud chasers and those who want maximum power from their vape.
The Z200 Kit supports multiple working modes, including Power, Smart, TC-SS, TC-TCR, VPC, and Bypass, giving users the flexibility to customize their vaping experience to their liking. It's powered by dual 18650 batteries (Not Included), providing long-lasting battery life for extended vaping sessions. The device also features micro USB charging, making it easy to recharge the batteries when needed.
Overall, the Geekvape Z200 Kit is a high-quality device that combines cutting-edge technology with exceptional performance. Its size and large display make it a standout device in the vaping world, perfect for vapers who want power and style in one convenient package.